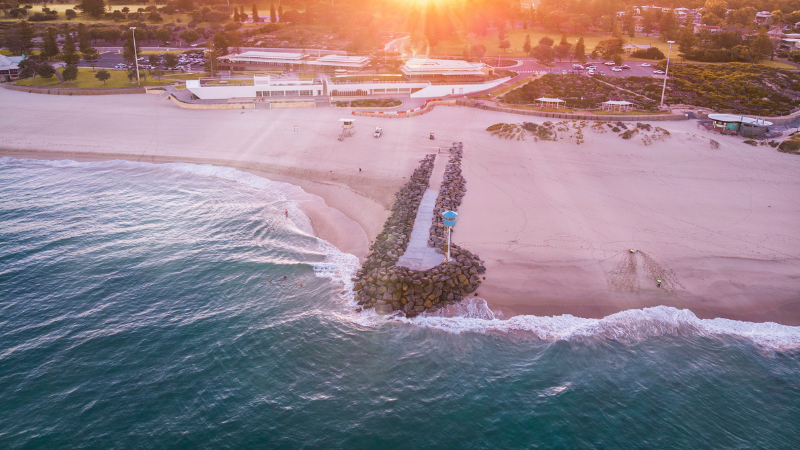 City Beach – Casual and Luxurious, Western Australia's Favorite Spot for Beach Lifestyle and Relaxation
City Beach is widely admired for summer barbecues and exciting surfing. The beautiful beaches are some of the most impressive and consistently enjoyable in the world. There's nothing like a City Beach sunset over the majestic Indian Ocean.
City Beach was established back in 1917 to give the city a great place for public beach access. The Perth Road Board bought a 1,290-acre estate with the idea of creating new communities with lots of recreation opportunities.
City Beach was widely known and appreciated throughout the region, but came to international attention when the Commonwealth Games were held in Perth in 1962. The first Games Village was constructed combining comfort and convenience with access to both rustic beach and city luxury.
This is the ideal place to while away lazy days with a cool drink and favourite friends and family. City Beach is Western Australia's jewel admired by savvy travelers all over the world.
Beautiful City Beach Homes
This marvelous community offers a wide range of architecture with lots of creativity, imagination, and history. You can easily find everything from comfortable family homes with all the features and amenities you need to magnificent mansions with stunning ocean views.
This is a community that welcomes everyone with a complete variety of lifestyles. You can be sure to find a property that provides everything you are looking for at a price that suits your needs. Prices range from $1.5 million for a comfortable family home all the way up to $7 million investment for a beachside mansion to reward your family for generations.
Escape the Hustle & Bustle of the City
The big advantage of City Beach is you can enjoy relaxing beach life far from city pressures. Yet you are just a short commute to all the advantages of Perth. Many people live in City Beach while working in Perth, owning businesses, or simply "going into town" for shopping, restaurants, and the many entertainment options.
City Beach has historically been the seaside escape for captains of business, sports stars, and entertainment moguls. You get the space to spread out and relax. We enjoy the region's lowest residential density code R12.5. The large plots ensure neighbours aren't right next to you. Plus parks and reserves account for nearly half of City Beach's land area. So green space is always just a short walk away.
Our beach is home to some of the area's most impressive large homes with spectacular Indian Ocean views that are unmatched anywhere in the world.
But it isn't all about nature. City Beach is home to modern Surf Lifesavers Club and top-notch prestigious schools, famous restaurants, and easy access to CBD.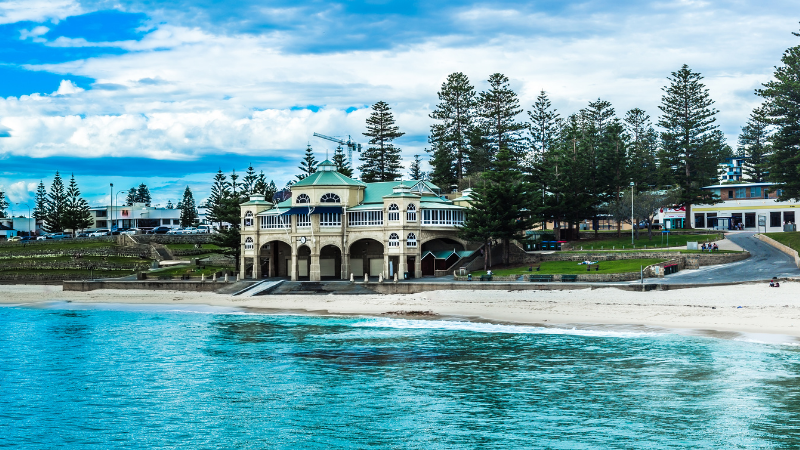 This affluent area sits on the busy Marine Parade with relaxing cafes and delicious gelato shops drawing both tourists and residents. They overlook lovely sand beaches with magnificent views of the Indian Ocean stretching for thousands of kilometers beyond. Don't miss famous Indiana Cottesloe Beach Restaurant. It's a former tea house established in 1910. Many of the oceanfront pubs offer live music on weekends with nearby trendy bakeries, designer jewelry makers and sellers, and plenty of surf wear shops.
This area is world famous for water sports. Cottesloe is where surfing and surf lifesaving started in Western Australia. It's still the home of the only family owned and operated surfing school. There all ages can learn to surf in their popular Safe Surfing Program. Open to all abilities.
Cottesloe received its name in honour of Captain C. H. Fremantle whose brother was Baron Cottesloe in 1874. This community is the ideal place to enjoy an outdoor lifestyle of swimming, surfing, long walks along the beach, and phenomenal sunsets over the Indian Ocean that are the envy of the world. Sit under one of our famous pine trees to enjoy this most majestic of all natural experiences.
These same pine trees line wide streets populated with trendy cafes including Blue Duck and Fremantle Doctor. Enjoy the cool sea breeze that makes every day feel like a romantic holiday getaway.
Cottesloe is ideal for commuters and business owners. Located on the coast between Perth and Fremantle, homes are within 3kms of major schools and city conveniences.
Everyone from young families to retirees make their ideal home here. Enjoy a stunning Indian Ocean view with a short 15-minute drive to work and shopping in the Perth metro area.
Remarkable variety and exceptional convenience makes this ideal for raising a family in a peaceful and inspired environment. You simply can't beat this area for opportunities to swim, enjoy water sports, and immerse with nature.
Don't miss the Cottesloe Village shopping area stretching from Forrest Street and Jarrad to Railway Street. There you can find everything from fashions to gifts to gourmet meals and health products and services.
Then relax at our many sports grounds, tennis courts, parks, and famous Cottesloe and North Cottesloe Beaches open to everyone.
Here you can find some of Australia's most impressive mansions. Dalkeith is an affluent suburb that started back in 1833 when Captain Adam Armstrong and his sons build a cottage. Armstrong had previously been manager of the Earl of Dalkeith's estate in Scotland. Thus he named the new community Dalkeith.
Later James Gallop bought the farm and built a two story home that still exists today. It was restored in 1963 to become one of the oldest private residences in the area.
Justland Parade is the most expensive street in Dalkeith and one of the most elite in Perth. There you can see fine homes with wonderful views in a location that affords easy access to city advantages and benefits.
Breathtaking views accompany a truly enviable lifestyle here. It's mostly a residential area with lots of lovely parks and open spaces for families to enjoy. Be sure to visit College Park and David Cruikshank Reserve.
There is no shortage of sports here with a junior football club, tennis club, and bowling. The local school is Dalkeith Primary.